26 July - 28 July
The Formula Sun Grand Prix is a three day track race. It took place at the Pittsburgh International Race Complex. FSGP likes to test how the competitors are able to corner, brake, and accelerate. In order to be successful in FSGP, teams must understand how their vehicle consumes power on a per-lap basis and perfectly manage this consumption. In the end, the team that is able to complete the most laps in the three day span wins. Successful completion of FSGP is also required for competition in the American Solar Challenge.
The University of Minnesota has won the Formula Sun Grand Prix 4 times, in 2003 with Borealis II, 2005 with Borealis III, 2009 with Centaurus I, and in 2011 with Centaurus II. This year, we placed fourth behind Michigan, Principia, and Appalachian State.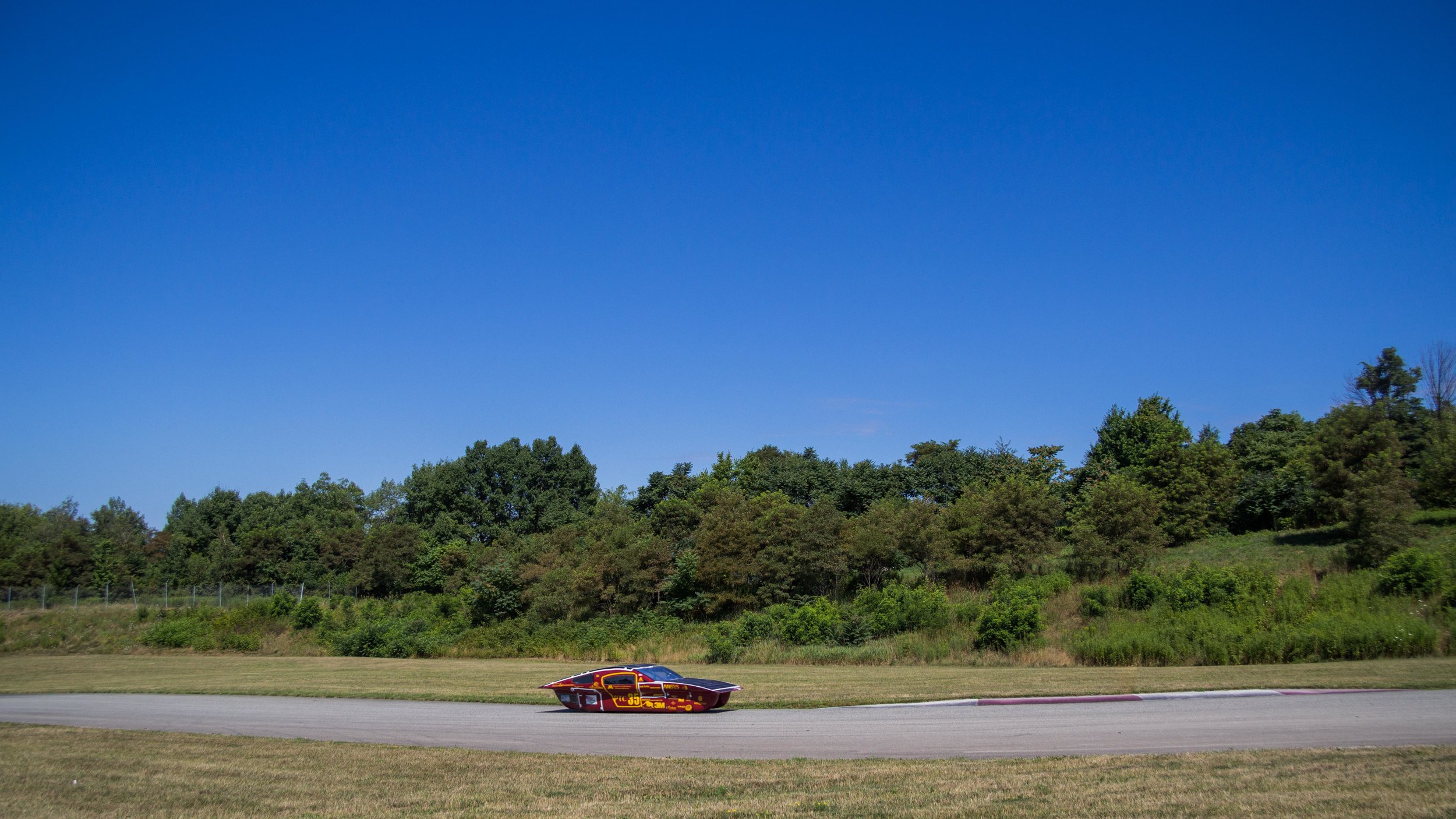 30 July - 6 August
The 2016 American Solar Challenge is an 8 day, 1975 mile road race. The course starts in Cuyahoga Valley National Park in Brecksville, OH and ends in Wind Cave National Park in Hot Springs, SD. Along the way, Solar Cars will race through Indiana, Missouri, Kansas, and Nebraska, stopping at 9 National Parks along the way as part of the National Parks Services' Centennial Celebration.
The University of Minnesota is one of only two teams to build and race in a multi-person car, so we will be the only competitors at the American Solar Challenge with this type of design. We are participating in order to show everyone who follows this event that Solar Cars don't have to be uncomfortable looking, gawk worthy machines, but that they are also moving towards being practical and are likely the future of automotive engineering, though, admittedly, the fact that they are gawk worthy is what appeals them to some people.
We drove through the following places (official information here):
30 July - Cuyahoga Valley National Park; Brecksville, OH
30 July - Dayton Aviation Heritage National Historical Park/Carillon Historical Park; Dayton, OH
31 July - George Rogers Clark National Historical Park; Vincennes, IN
1 August - Ulysses S. Grant National Historical Site/Grant's Farm; St. Louis, MO
2 August - Wilson's Creek National Battlefield/Republic High School; Republic, MO
3 August - Brown V. Board of Education National Historic Site; Topeka, KS
4 August - Homestead National Monument of America; Beatrice, NE
5 August - Scotts Bluff National Monument; Gering, NE
6 August - Wind Cave National Park; Hot Springs, SD